The Korg KM-402 and KM-202
As professional DJ's expand for more funcitonality out of a mixer, the four-channel KM-402 and the two-channel Korg KM-202 combine the KAOSS Pad's effects and interface with a pristine 24-bit digital DJ mixer complete with an adjustable crossfader. What more is needed to mix tracks together?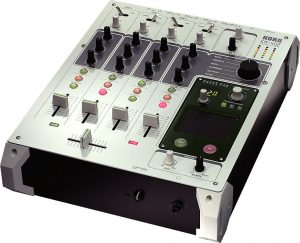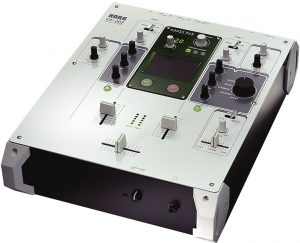 KAOSS PAD
The clean design and integrated KAOSS PAD set a new standard for an integrated mixing while providing effects processing, allowing a style of mixing and performing with effects that is unparalleled . With one hundred effect programs, a "PROGRAM MEMORY" key for fast saving and instant recalling of your best programs, an "FX RELEASE" function that holds delay and reverb tails intact through preset changes, and a "KAOSS" button for assigning the KAOSS PAD to specific channels, The Korg KM-402 and KM-202 are ideal choices for every type of DJ wanting to incorporate effects into a performance.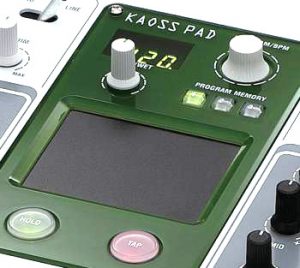 With the innovative KAOSS pad, you manipulate effects using the tip of your finger. The unique touch-pad changes multiple effect parameters to create unique timbres. The simple and intuitive interface has made the KAOSS PAD one of the most popular effect processors for artists.
The KM-402 / KM-202 integrate one hundred powerful integrated effects from the KP3 KAOSS PAD, all with the unique fingertip control that made the KAOSS PAD famous. The effects range from filters, phasers, delays, and reverbs, to unique effects such as a real-time looper and synth section.
The included presets combine simple elements such as delays and filters that are unique to the design and will provide inspiration for new mixing techniques. With the KOASS Pad's unique ability to "touch" your effects, the KM-402 / KM-202 provide a human touch to effects that will take you to the next level.
Equalizer and EQ Curve Selector
EQ manipulation is a staple of DJ performance. In response to this need, the KM-402 / KM-202 take advantage of full-digital processing to provide six different EQ types to suit any sound, from powerful high-pass filters, to unique "Hyped" and "Isolator" EQ curves. Each channel has a dedicated three-band EQ (Hi/Mid/Low) that responds in different ways according to whatever EQ curve is currently selected via a simple six-position selector.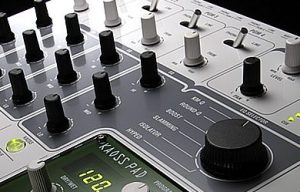 These EQ types have been created based on the opinions of numerous famous artists, and include EQ curves that cut only the low-frequency region while boosting the mid-range, as well as extremely drastic EQ types that use the knobs as isolators for each frequency band. This capability means that the EQ knobs are now a core element of your mixing performance, and take advantage of the integration with the KAOSS effects to create performances that use EQ in a new and unique way.
As you'd expect from a full-featured DJ mixer, long throw faders and cue controls let you perfect the mix and lock your tracks in real time while cueing through headphones.
Cross-fader response is as personal as the DJ controlling the fader. The adjustable cross-fader curves and calibration function let you set up the mixer to your personal style. Whether you're mixing dual decks, triggering from a laptop or integrating other sound sources, the KAOSS Mixer adapts to your style and personal touch.
KM-402 and KM-202 Main Features
The KM-402 offers four channels, while the KM-202 supplies two channels.
Integrated effects from the acclaimed KP3 KAOSS PAD used by DJs and musicians.
One hundred effects add unlimited creativity.
"FX RELEASE" function allows reverb and delay tails to smoothly decay through preset and effect changes.
"KAOSS Button" on each channel for quick, independent control of your effects.
A full 24-bit digital mixer delivers huge headroom and pristine audio quality.
Six independent types of EQ deliver unparalleled flexibility to shape your sound, your way.
Programmable cross-fader allows you to adjust the response and curve to suit your individual needs.
Jack guard prevents damage to the I/O section, making the KAOSS MIXER worthy for heavy road use.